Of late, considering the constant usage of pesticides and to monitor the residues in the final produce, a well equipped test facility was established at UPASI TRI in 1994. The pesticide residue laboratory is accredited by National Accreditation Board for testing and calibration Laboratories (NABL) and certified to carry out the tests in line with the standard ISO 17025 in the year 2003. Mandate of the division is to carry out research on pesticide residues, development and validation of methodologies for quantifying the residues of new pesticide molecules and quantification of heavy metals in tea. Analytical services include quantification of heavy metals and residues of the commonly used pesticides in fresh green leaves, dried green leaves, infusion, soil and black tea and active ingredient analysis of commercial formulations. Periodical surveys are being conducted in tea districts of south India to monitor and document the residue levels of pesticides in black tea. Quantification of residues of ethion, dicofol, quinalphos, chlorpyrifos, fenpropathrin, fenvalerate, lambda-cyhalothrin, beta-cyfluthrin, propargite, endosulfan, fenpyroximate and hexythiazox were endorsed by NABL besides certain heavy metals like copper, chromium, nickel, zinc, cadmium, lead and arsenic. Atomic Absorption Spectrometer equipped with flame, furnace and hydride generator is used for quantifying the heavy metals in tea and in agro inputs. Gas Chromatograph with flame ionization detector (FID)coupled with head space, nitrogen phosphorus detector (NPD) and electron capture detector (ECD) with auto sampler & mass spectrum (MS) detector and High Performance Liquid Chromatograph equipped with diode array detector (DAD), UV detector and fluorescence detector (FLD) are used for the quantification of pesticide residues.
As mentioned earlier, the laboratory is being involved in the quantification and documentation of pesticide residues in black tea. From time to time, field experiments (wet and dry season trials) were also conducted to assess residue levels of new molecules and to document the dissipation pattern of foliar applied pesticides. Based on the results on residues, safe harvest intervals are calculated for commonly used pesticides and the data were used to establish their MRLs in processed teas. Basket surveys are being conducted at periodic intervals in different tea districts of south India to determine the level of residues of the commonly used pesticides in processed tea. Surveys showed the presence of pesticide residues in certain surveyed samples. However, residue levels in all the samples were well below the MRL prescribed by the PFA/CODEX/EU/EPA.
Impact of repeated application of identical active ingredient on pesticide residue, herbicide residue in black tea, growth rate on dilution of repeated application of fungicides and increasing dosage of fungicides were also documented which throw more light on residues in black tea.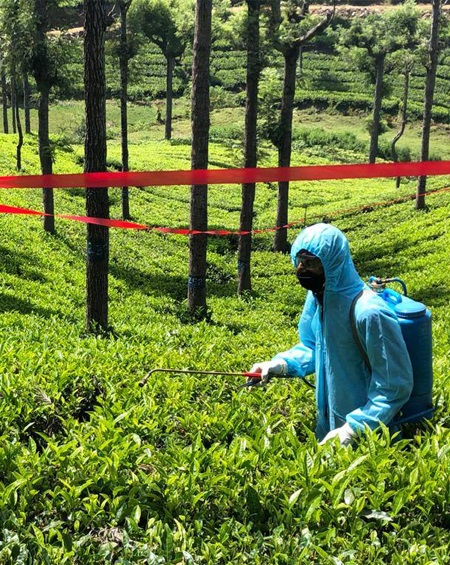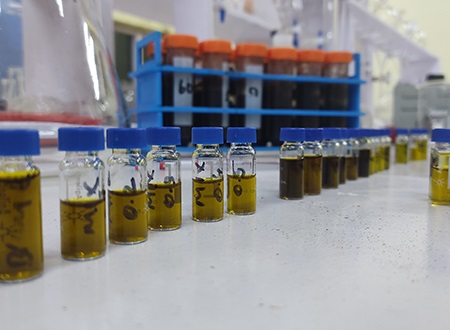 Pesticide laboratory is conscious in evolving safety aspects of pesticides/insecticides with particular reference to environmental pollution. Core data generated on residues in black tea, soil and water analyses during the course of experiment were serve as an authentic document to get clearance from Central Insecticide Board. Submission of the generated residue data to the international and national bodies like CODEX, PFA is useful to fix MRL and safe harvest interval in tea. As an integral part of the activity, division executed sponsored trials and projects approved by the funding agencies, viz.,Tea Board and NTRF.
Pesticide Residue laboratory was involved in the second level screening of TGLIA (The Golden Leaf India Awards competition) samples by technical analysis as per EU/PFA norms. Since 2005, under second level screening almost six hundred samples were analyzed involving 5,400 quantifications of pesticide residues/heavy metals with the selected samples from the first level screening. The Inter Governmental Group (IGG) of CODEX finalized the list of 25 chemicals for protection in tea in India. Based on the priority list, the residue data are generated for the chemicals and submitted to IGG working group on tea. Pesticide Residue laboratory was assigned to act as nodal laboratory in India for generation of residue data for submission to IGG/CODEX. Available data had been submitted to CODEX for fixing MRL in tea for few chemicals such as chlorpyrifos, paraquat, ethion, quinalphos and fenpropathrin.
MRLs of commonly used agrochemicals declared by different agencies
Name of the chemicals
Maximum Residue Limit (mg/kg)
EU
EPA
Japan
PFA
Codex
-
Abamectin
0.02
–
0.02
–
–
Acephate
0.05*
–
10
–
–
Acetamiprid
0.1*
50
30
–
–
Azadirachtin
0.01*
–
–
–
–
Bifenazate
0.02*
–
2
–
2
Bifenthrin
5
–
25
–
30
Bitertanol
0.1*
–
0.1
–
–
Carbaryl
0.1*
–
1
–
–
Carbendazim
0.1*
–
10
–
–
Carbofuran
0.05*
–
0.2
–
–
Carbosulfan
0.1
–
0.1
–
–
Cartap
0.1*
–
30
–
–
Chlorothalonil
0.1
–
10
–
–
Clofentezine
0.05*
–
20
–
–
Clothianidin
0.05*
–
50
–
0.7
Copper
40
–
–
150
–
Cyfluthrin isomers
0.1*
–
20
–
–
Deltamethrin
5
–
10
2
5
Diazinon
0.02
–
0.1
–
–
Dichlorvos
0.02*
–
0.1
–
–
Dicofol
20
50
3
5
50
Dimethoate
0.05*
–
1
–
–
Diflubenzuron
0.1
–
20
–
–
Diuron
0.1
–
1
–
–
Emamectin benzoate
0.02*
–
–
–
–
Endrin
0.01*
–
–
–
–
Ethion
3
–
0.3
5
–
Etoxazole
0.05
–
10
–
15
Fenazaquin
10
–
–
3
–
Fenitrothion
0.5
–
0.2
–
–
Fenpyroximate
0.1
–
10
0.2
–
Flufenoxuron
15
–
15
–
–
Fluoride ion
350
–
–
–
–
Flufenzine
0.05*
–
–
0.05
–
Fenvalerate
0.05*
–
1
–
–
Fenpropathrin
2
–
25
1
2
Gibberlic acid
5
–
–
–
–
Glufosinate ammonium
0.1*
–
0.5
0.01
–
Glyphosate
2
1
1
1
–
Heptachlor isomer
0.02*
–
0.02
–
–
Hexachloro benzene
0.02
–
0.02
–
–
Hexachloro cyclo hexane isomer
–
–
–
–
–
Hexaconazole
0.05*
–
0.05
0.02
–
Hexythiazox
0.05*
–
35
0.01
–
Imidacloprid
0.05*
–
10
–
–
Lambda cyhalothrin
1
–
–
–
–
Lead
–
–
–
10
–
Mancozeb
0.1*
–
–
–
–
Milbemectin
0.1*
–
0.7
–
–
Oxydemetonmethyl
0.05*
–
0.05
–
–
Oxyfluorfen
0.05*
–
–
0.2
–
Paraquat
0.05*
–
0.3
0.05
0.2
Phosalone
0.1*
–
2
–
–
Propargite
5
10
5
10
5
Profenofos
0.1*
–
1
–
0.5
Propiconazole
0.1*
–
0.1
0.1
–
Propineb
0.1
–
–
–
–
Quinalphos
0.1*
–
0.1
0.01
–
Simazine
0.05*
–
–
–
–
Spiromesifen
0.02*
–
30
1
–
Sulfur
5
–
–
–
–
Thiacloprid
10
–
30
–
–
Thiram
0.2*
–
–
–
–
Thiamethoxam
0.1
–
15
0.01
20
Tebuconazole
0.05*
–
25
–
–
Triazophos
0.02*
–
0.05
–
–
Ziram
0.2*
–
–
–
–